Internal Audit Jobs
Financial Markets Internal Audit Specialists
We are a leading specialist with over a 30 years combined experience in Business and Technology Audit recruitment for London, Scottish and International Markets within the following financial sectors:
Select a function to see the latest Audit jobs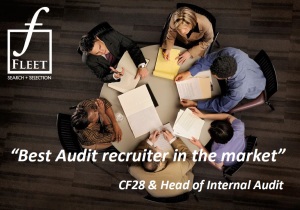 For a complete list of all our latest Audit roles visit our Vacancies page.

Why Use Fleet to Assist You in Your Next Move?
As a professional what do you look for in a recruitment consultancy when you're thinking about making your next move? It is Fleet's firm belief that a candidate should be working with a consultancy which:
Offers a competitive advantage:
Listens to your requirements:
Knows your market inside and out and can select the right organisation for you:
Prepares you for the interview including what the job specification doesn't tell you!
Fleet Search incorporates these guiding principles into an individually tailored service

Changing role or career is an important decision for anyone. For expert advice from our Directors on Technical, Soft Skill, Competency Based Interviews, entering the Financial Services Markets and moving from External to Internal Audit, read our Candidate Resources page. Alternatively call our Audit Team on 0845 500 5155.
If our service seems too good to be true and you would like an impartial opinion, please read our Success Stories page to gain an insight into what Fleet could do for you.