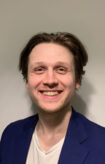 Greetings, I'm Kristofer, a 27-year-old entrepreneur deeply embedded in Recruitment & Talent Acquisition, particularly within the dynamic realms of aviation, engineering and customer service. Commencing my journey at 19 as a Recruitment Consultant, I specialised in delivering expert and level headed recruitment advice to businesses.
I am dedicated to providing my clients high-value support, leveraging our team's firsthand experience to understand the unique employment challenges faced by clients in their specific sector.
Having started The Inside Recruiter, I'm thrilled to partner with Fleet Search and to have the potential to make a positive impact for companies, fostering success and enhancing overall performance. If you're searching for a dedicated recruitment partner passionate about aviation, engineering and customer service, I would love to help.